start
The smart mirror
Each person spends approximately 30 minutes in front of a mirror, without mentioning the mirrors he brushes by and fixes his hair. A mirror is a daily-life product, which is hard to forgot, but there's more to it! That's why we had the idea to offer a smart mirror to enlarge the daily-life product.
Request
For private customers:
Time
Weather
News
Calendar
Notes
Traffic
Gas Prices
Mails
Product
For Companies:
modules
Interesting modules (like date/time, weather, news, next events, at hotels/ restaurants their menu of the day… ) can be displayed all the time.
advertisement
The advertisement is set up as a module. The owner of the location decides himself whether he only wants to display his own advertisement or that of others.
special glas
The by our partner GlasStar specially supplied smart mirror glas is perfect for an optimal display of contents and remaining excellent reflections.
frame
The frames are adjusted by us for each customer as desired. They complete the design concept of their location in an ideal way.
display
The deposited display allows the announcement of static or dynamic content.
individuality
Every system is made by us according to the customers' wishes. The statisfaction of our customers has the utmost priority.
bundes schülerfirmen contest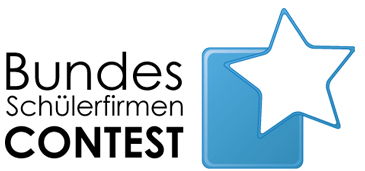 Junior firm
Juniorprogramm- students found a firm
Junior firm
The project JUNIOR enables students to found their own firm out of a business idea, which includes successful distribution and marketing. Beside the insight into the start-up scene, new experiences are made. JUNIOR is supported throughout Germany by the Federal Ministry of Economy and Energy, German Institute of Economy Cologne, Gesamtmetall, the AXA, the Deloitte-Foundation, AT&T and Citigroup.
Us
All firm members are thrilled by JUNIOR and take part of the social science advanced course of the Albert-Schweitzer-Gymnasium Kaiserslautern. Our firm consists of 16 staff members, being divided into several divisions to undertake tasks to realize optimally our business concept. The practical division of tasks forms the basic structure of a successful firm. Furthermore, the idea of smart mirrors is rarely known.
About us
Our young and active team reflects flexibility, responsibility and ambition.
Financing?
To create a real image of a start-up, we have to pay taxes to the German Institute of Economy, which examines our finances. Our share capital is composed of 90 shares worth of 10 Euro.
Aim:
Success is our first priority, including to reach a high name of recognition to gain costumers and establish contacts. These facts us enable a high produce of sales. Besides founding a proper firm, we decided to participate at competitions like the "Bundes-Schülerfirmen-Contest", for which we collect votes and hope to convince the jury by an excellent online presence.
Our Instagram-Feed